Greer Christmas 7s National Rugby Tournament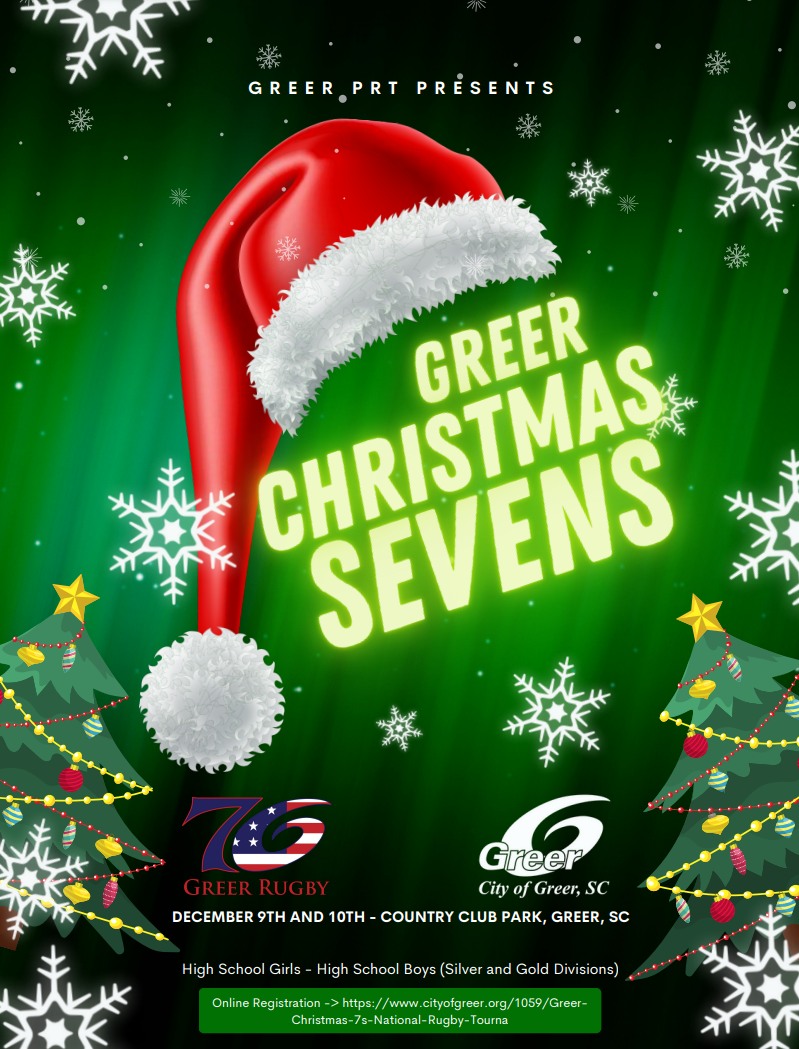 Welcome to the home of the "Christmas 7s" hosted by the City of Greer and the Greer Parks, Recreation & Tourism Department.
REGISTRATION IS OPEN FOR THE 2023 CHRISTMAS 7S EVENT
ONLINE REGISTRATION LINK --> CLICK HERE
Online Registration Instructions
1. Click on link above
2. Click on "Special Events Tab"
3. Select your division
4. Sign up your team
Tournament provides officials from Southeast Rugby Referee Society as well as one athletic trainer per field.

College coaches who attend will have access to a small break room and overlook tower.

NO REQUESTS FOR MATCH TIMES - we strongly urge every team to stay overnight on Friday, December 8th in order to be ready for early 12/9 match times

2023 Christmas 7s tournament is a two day event
Teams Arrive to Greer, SC - 12/8
Tournament Day 1 - 12/9
Tournament Day 2 - 12/10
Tournament Site - Country Club Park
Address - 2501 Country Club Road, Greer, SC, 29651
2023 Schedules are not released.
Wins = 4 Points
Ties = 2 Points
Losses = 0 Points

Tie Breakers
1. Head to Head Result (only if 2 teams are tied)
2. Total Points Allowed for entire tournament (if 3 or more are tied)
3. Total Points Scored for entire tournament (if 3 or more are tied)
2022 Schedule-Results listed below along with Champions
Saturday Match Results (Gold Boys Division)
9AM Field 1 Pendleton (29) Raleigh (0)
940AM Field 1 Greer (14) Oceanside (7)
1020AM Field 1 Raptor (24) Wando (5)
11AM Field 1 Pendleton (22) Greer (15)
1140AM Field 1 Raptor (38) Raleigh (21)
120PM Field 2 Oceanside (21) Wando (7)
200PM Field 2 Pendleton (26) Oceanside (0)
240PM Field 2 Raleigh (29) Wando (10)
3PM Field 2 Greer (17) Raptor (17)

Sunday Match Results (Gold Boys Division)
940AM Field 1 Pendleton (38) Wando (0)
1020AM Field 1 Greer (19) Raleigh (12)
11AM Field 1 Raptor (43) Oceanside (0)
1140AM Field 1 Greer (33) Wando (0)
120PM Field 2 Oceanside (14) Raleigh (0)
140PM Field 2 Raptor (17) Pendleton (0)
2PM Field 2 Championship Game 31-0 Pendleton WINS

Final Standings
Pendleton Rugby 5-1 (CHAMPIONS)
Raptor Rugby 4-1-1
Greer 76ers 3-1-1
Raleigh 1-4
Oceanside 1-4
Wando 0-5
2022 Boys Silver Division - Click here to view schedule
Saturday Match Results (Silver Boys Division)
920AM Field 1 Pendleton (15) Greer (5)
10AM Field 1 Raptor (21) AYR (12)
1120AM Field 1 Roswell (34) Greer (7)
1200PM Field 1 AYR (12) Pendleton (5)
120PM Field 1 Loudoun (21) Raptor (12)
2PM Field 1 Loudoun (24) AYR (14)
220PM Field 1 Roswell (33) Raptor (12)
Sunday Match Results (Silver Boys Division)
920AM Field 1 Raptor (26) Greer (5)
10AM Field 1 Loudoun (10) Pendleton (5)
1120AM Field 1 Loudoun (31) Greer (5)
12PM Field 1 Roswell (17) Pendleton (5)
120PM Field 1 Roswell (19) AYR (19)
140PM Field 1 Raptor (19) Pendleton (0)
2PM Field 1 AYR (19) Greer (10)
220PM Field 1 Loudoun (22) Roswell (7)
Final Standings
Loudoun 5-0 CHAMPIONS!
Roswell 4-0-1
Raptor 4-1
AYR 2-3
Pendleton 1-4
Greer 0-5
2022 Girls Division - Click here to view schedule
Saturday Match Results (Girls Division)
9AM Field 2 Redhawks (33) Greer (5)
940AM Field 2 Wando (15) Roswell (7)
10AM Field 2 Oceanside (26) Greer (7)
1040AM Field 2 Wando (17) RSnakes (10)
11AM Field 2 Roswell (22) Oceanside (15)
1140AM Field 2 RSnakes (24) Oceanside (5)
12PM Field 2 Redhawks (21) Roswell (7)
Sunday Match Results (Girls Division)
9AM Field 2 RSnakes (17) Greer (0)
920AM Field 2 Redhawks (24) Wando (7)
10AM Field 2 Wando (17) Greer (12)
1020AM Field 2 Redhawks (31) Oceanside (21)
1040AM Field 2 Roswell (41) Greer (0)
1120AM Field 2 Roswell (7) RSnakes (0)
1140AM Field 2 Wando (24) Oceanside (12)
12PM Field 2 Redhawks (21) RSnakes (19)
Final Standings (Redhawks CHAMPIONS)
Redhawks 5-0 (CHAMPIONS)
Wando 4-1
Roswell 4-1
Rattlesnakes 2-3
Oceanside 1-4
Greer 0-5

2023 Champions
High School Boys Gold Division - TBD
High School Boys Silver Division - TBD
High School Girls Division - TBD
2022 Champions
High School Boys Gold Division - Pendleton (Indiana)
High School Boys Silver Division - Loudoun (Virginia)
High School Girls Division - Redhawks (North Carolina)
2021 Champions
High School Boys Gold Division - Raptors Rugby (Tennessee)
High School Boys Silver Division - AYR (Georgia)
High School Girls - Raleigh Redhawks (North Carolina)