Whether you're a golfer looking for a challenging course or a hiker seeking a perfect weekend getaway, the City of Greer's location in the foothills of the Blue Ridge Mountains and its four-season climate makes it an ideal location for outdoor recreation.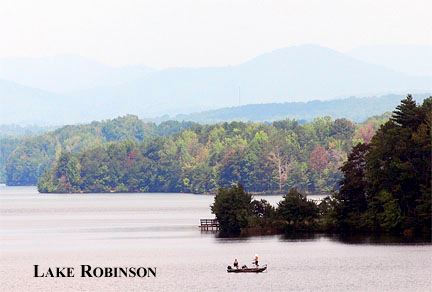 The Greer Commission of Public Works (a certified Wildlife and Industry Together Site (WAITS) site) owns two lakes in Greer, each with recreational and fishing areas:
Lake Cunningham offers 376 acres of fishing and boating fun. Amenities include a fishing pier, boat ramps, and a park/recreational area. Common species include bass, crappie, bream, and pickerel.

Lake Robinson, which covers 800-acres, offers a boat ramp, picnic tables and grills, a clubhouse with deck and restroom facilities, a fishing pier, and the J. Verne Smith Recreational Area open to the public.
Those who enjoy land-based fun may take advantage of the many golf courses in the Greater Greer Area. From Greer Golf's tight tree-lined course to the nationally-recognized Thornblade Course that hosts the BMW Pro-Am Tournament, golfers will find challenges and natural beauty in Greer.
From the 12-acre Greer City Park with its grand fountain and amphitheater to neighborhood parks that offer playground equipment and picnic tables, the City of Greer manages nearly two-dozen facilities with a multitude of amenities through its Parks and Recreation Department. A popular offering is the Century Park Disc Golf Course designed by industry leader Innova, Inc.
View City of Greer Parks & Facilities
The City of Greer rededicated Stevens Field and Victor Park and Gym in 2009 following extensive renovation projects. Those facilities are designed not only to accommodate local play, but to host regional and state tournaments.