804 Trade Street
Greer, SC 29651
Hours
Mon: Closed
Tue: 6:00 PM —  8:30 PM
Wed: Closed
Thu: Closed
Fri: Closed
Sat: 11:00 AM —  4:00 PM
Sun: Closed
Other
Art Gallery and Artist Studios are open on Tuesdays and Saturdays. Office hours are by appointment.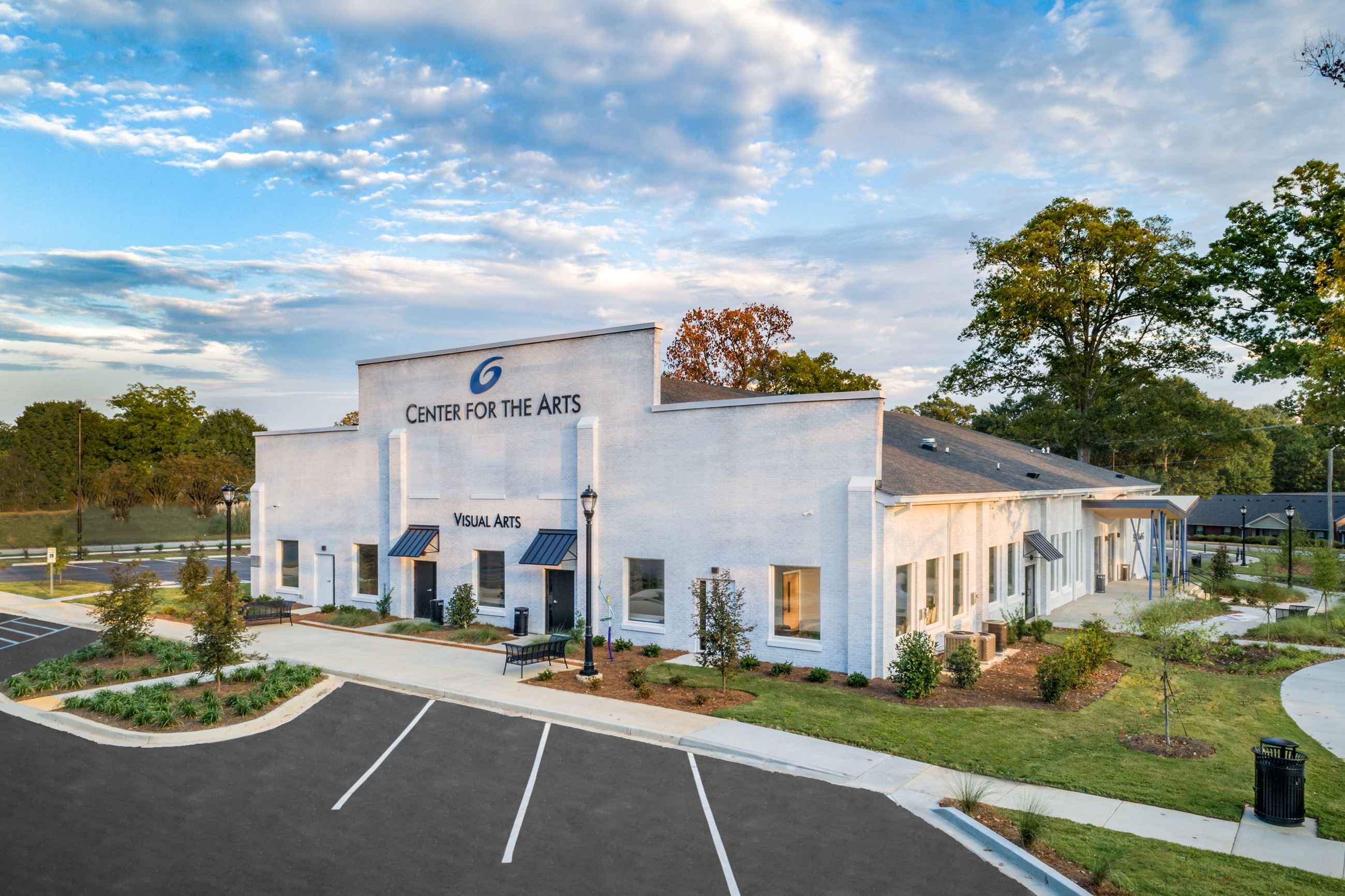 Art Gallery

Art Studios

Classrooms

Theater Space
About the Center for the Arts
The City of Greer preserved a 63-year-old building by adapting its use to meet the community's demand. The Center for the Arts, located in the heart of downtown Greer, was originally built in 1955 by the SC Wesleyan Church and used as the tabernacle for their camps and retreats. When the camp site was relocated to Table Rock in 1983, the building and property was deeded to the City. Renamed the Greer City Auditorium, the building was rented to local churches before it became the first home of the South Carolina Children's Theatre. When they outgrew the space, the building sat vacant for nearly fifteen years, until another local church entered into a lease agreement with the City and occupied the building for eleven years. During that time, the church made nearly one million dollars' worth of renovations, including HVAC and the addition of office space.

In 2015 the church vacated the building, and the City embraced the opportunity to transform it into a Cultural Arts Center and develop the adjoining three-acre park. A master plan for the City that was completed in 2015 identified the section of town where the building is located as an Arts District. The demand for Cultural Arts programming has grown tremendously in the City, so it made sense to make this the home for Cultural Arts.

SGA Architecture was selected to lead the design of the building in 2017 and construction began in September of the following year. The 12,100-square-foot building received a new roof, HVAC, plumbing, fire suppression system, security system, and internet technology, as well as surrounding parking lots. Improvements to the building for programming included large classrooms for pottery and art classes, rentable studios for local artists, a theatre that seats approximately 125 people, a formal lobby, and new office space. The City was able to salvage the existing stage for the theatre, which was an original part of the building.

The surrounding park includes walking trails, park lighting, wayfinding signage, an amphitheater, educational rain gardens, a playground, and infrastructure that enables the park to host festivals and events.

The renovation cost totaled over $2.5 million, and the facility opened to the public in September of 2019. If you are looking for an example of an agency preserving a building and adapting its use, look no further than the City of Greer.