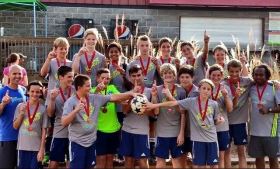 Program Coordinator
David Holtzclaw
864-416-6606
Email David Holtzclaw
About Foothills Soccer Club of Greer
The Foothills Soccer Club of Greer (FSCG) provides instructional soccer leagues at our home complex, South Suber Park, located on Suber Road near Wade Hampton Boulevard. Our club welcomes players of all skill levels. The recreational league is co-ed. The FSCG Academy division is higher level competition that plays year round throughout the state. Tryouts are required for this division and take place in May.
Click on Schedules. DO NOT click on Access Portal
Practices/Game Information
The FSCG Recreation division uses Mondays, Thursdays, and occasionally Saturdays at Suber Road Park for games and practices. Our FSCG Academy division typically uses Monday, Tuesday, and Thursday for practices at Suber Road Park Soccer Complex, Country Club Road Park and Greer City Stadium, with games on Friday/Saturday at various facilities (higher level competition, commitment, and travel). Tryouts for FSCG Academy take place in mid-May.
Beginning Fall 2023, all recreational soccer players MUST attend a player evaluation on Saturday, July 22 at South Suber Road Park. The evaluation will be used when drafting teams for the season. Special requests will no longer be accepted.
U6: Monday, Thursday - 6:00pm; Saturday morning (possible)

U8: Monday, Thursday - 6:00 / 7:00pm; FULL for Fall 23

U10: Monday, Thursday - 7:00pm; FULL for Fall 23

U12: Monday, Thursday - 8:00pm; Full for Fall 23
Registration
2023 Fall Registration for U6, U8, U10 & U12 Divisions
City of Greer Resident Registration: June 5 - July 9

Non-Resident Registration: June 12 - July 9

Late Registration: July 10 - July 16 ($25 late fee will apply)

Age divisions may fill up prior to registration closing (space is limited)
*Please note that limited space is available*
Register Online
Fees
Recreation registration fee to join FSCG is $75 per child for City residents and $95 per child for non-residents.

In order to participate your child must also purchase FSCG's uniforms. The one-time uniform fee is $30 per child, which includes a home and away jersey. Shorts are not provided. We ask that each child wear navy blue shorts and socks to all games. Shin guards are required for every player.
Current Leagues Offered
We will now be using birth year for determining league age. Consult the "2023-24" column of our Age Matrix (PDF) for more information. The FSCG Board must approve any player that wants to play in higher age division.
Please note that there is a limited amount of space in each division. The divisions are as follows:
U6 (Birth Years: 2018-2019)

U8 (Birth Years: 2016-2017)

U10 (Birth Years: 2014-2015)

U12 (Birth Years: 2012-2013)
2023 Important Dates
Evaluation Day: Saturday, July 22

Draft Nights (Coaches only): early August

First Practice: mid-August
Home Park Location
Suber Road Soccer Park
305 South Suber Road
Greer, SC, 29650
Coach a Team
FSCG offers two different sessions every year: Fall and Spring. If you would like to help coach your son or daughters team please email David Holtzclaw.
FSCG Board Members
Ryan Burns

Todd Lea

Arianne Williams

Joel Fitzpatrick

Amar Raina

Speedy Solomon