Start your career in Greer & make a positive impact in your community. Details & applications are available at
https://tinyurl.com/CareersatGreerPD
#startyourcareerinGreer #policingisapartnership #greerpd #thisisgreer
Mark your calendars for the first week of Fall in Greer! Tuesday: City Council Meeting, City Hall, 6:30 PM Saturday: Railfest, City Park 10:00 AM - 2:00 PM
September is Suicide Prevention Month. If you or someone you know needs help, call or text 988. Suicidal thoughts can affect people of all backgrounds & cultures. This month brings awareness to the impact suicide & suicidal thoughts have on our community.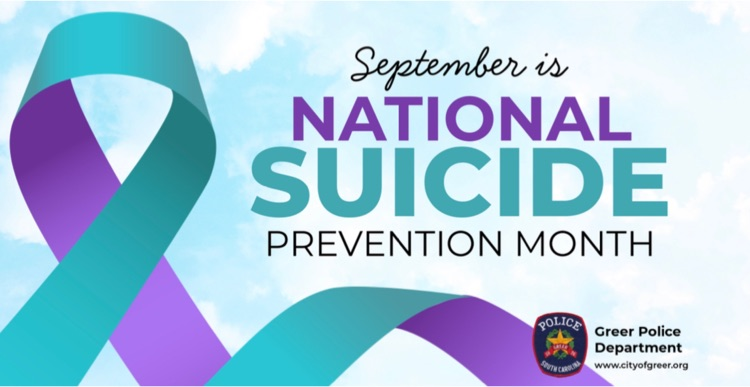 We have a calendar packed full of ways for residents to have their voices heard this week. Check out everything going on in Greer! Tuesday: City Council Meeting, 6:30 PM, City Hall Wednesday: UDO Drop-In meetings, 11:00 AM - 1:00 PM & 4:30 PM - 7:00 PM, City Hall Thursday: UDO Drop-In meetings, 7:30 AM - 9:00 AM, 11: 00 AM - 1:00 PM & 4:30 PM - 7:00 PM, Cannon Centre Saturday: Get you ART On! & Tunes in the Park: The Rhythm City Band, 5:00 PM - 9:00 PM
The City of Greer business offices will be closed today in observation of Labor Day. Municipal trash pickup will also be shifted back a day.
Happy Holiday weekend! We have a short week ahead of us, but here's what happening in Greer. Monday: Labor Day, City Hall Offices closed in observance Tuesday: Cutlery Club, Tryon Recreation Center, 7:00 PM - 9:00 PM
Mayor Rick Danner has signed a proclamation to name September Ovarian Cancer Awareness Month in the City of Greer.
Today is International Overdose Awareness Day, and we wanted to highlight to work our first responders are doing to combat the epidemic every day. All City of Greer Police Officers are trained at the South Carolina Criminal Justice Academy on how to administer Narcan, and all Uniform Patrol Officers are trained and carry Narcan. The Greer Fire Department also keeps Narcan in every first aid kit they have on board. So far this year, they have administered 23 vials of Narcan, and have responded to 67 overdose related incidents. There are several treatment centers in our area for overdose patients including Carolina Behavioral Center in Greer, the Phoenix Center in Greenville County, and the Forrester Center in Spartanburg County.
Property owners across the city will begin receiving these mailers as early as today. These are notifications about the upcoming adoption of a new Zoning Map and Unified Development Ordinance (UDO). Keep and eye out, and learn more at bit.ly/GreerUDO
The Greer Police Department hosted the 12th Annual Upstate Law Enforcement Memorial Tournament this past weekend. This year, the funds from the program went to benefit the family of fallen Easley Police Department Officer Matthew Hare.
A quieter week here in Greer, but mark your calendar for these upcoming events! Tuesday: Greer Farmers Market, 4:30 PM - 7:30 PM, City Park Tuesday: Artist Reception: The Fifth Season, 6:00 PM - 8:00 PM, Center for the Arts
The Greer Police Department has added School Resource Officers this year. Take an inside look at some of the work our officers do inside our schools to keep students, staff, and others safe.
It was another successful year for the Greer Police Department's Stuff a Cruiser Initiative. They collected 8 cruisers full of school supplies, plus nearly $2000 in cash and gift card donations to purchase more supplies.
Students across Greer are back in school, and the Greer Police Department wants to make sure everyone stays safe. Sgt. Sarah Melton with the Traffic Division says drivers and parents can make a difference this year by being aware on the roads, and making sure children walking to and from school are visible, and using sidewalks and crosswalks