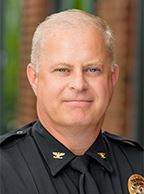 Chief Matt Hamby
Chief of Police
Email Chief Hamby
Phone: 864-416-0098
Police Department
Physical Address
View Map / Directions
102 S Main Street
Greer, SC 29651
Phone: 864-848-2151
Fax: 864-416-0112
Hours
Monday - Friday
8 a.m. - 5 p.m.
Matt Hamby, who began his law enforcement career as a patrol officer with the City of Greer Police Department in 1993, was selected following a national search to serve as the department's new Chief of Police. He assumed command of the department on March 31, 2017.
"I've seen the City of Greer go through a lot of changes and growth over the years. I feel like I'm a part of the culture of Greer and look forward to many more years here," he said. "I'm extremely honored and appreciative to have this opportunity. I can't think of a better place to serve in this capacity."
Promotion
Hamby was promoted to captain in 2014, serving as second in command of the department. In that role, he provided supervision of all division commanders, ensured compliance with department general orders, rules, regulations and standards, and represented the department at a variety of community events.
From 2000 to 2014 he fulfilled lieutenant duties in the Operational Support, Criminal Investigation, and the Uniform Patrol divisions. He previously served as a sergeant with the Uniform Patrol Division and Traffic Unit, and an officer with the Traffic and Patrol units. Hamby has been honored as the Greer Police Department's Rookie of the Year and Officer of the Year.
Diverse Experience
His diverse experience within the department includes responsibility for:
Administration

Community policing

Crime analysis

Crime mapping

Criminal investigations

Detention facility

Internal affairs

Policy development

Telecommunications

Traffic investigations

Uniform patrol

Vice and narcotics